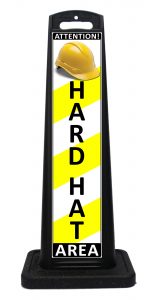 Custom designed portable warehouse safety signs improve safety and job performance in the workplace. We offer a variety of signs for factories, warehouses or any industrial application. Need a custom message? Let us know!
Easy to Handle and Stackable
Weatherproof
Easy to Read
Durable and Easy to Maintain
Warehouse Safety Sign Samples
DID YOU KNOW? (per OSHA)
"almost 100,000

forklift

accidents happen yearly" with about 35,000 of those being classified as serious and including an average of 85 annual fatalities
1 in 10 forklifts in the USA are involved in an accident each year
CREATE AWARENESS
Made in the USA, these plastic warehouse safety signs are for indoor or outdoor and will draw attention and create awareness to hazardous situations. They are also a useful tool to send reminders to your employees.
Sign Dimensions
Total Sign Height: 44″
Reflective Vinyl Labels on both sides: 9.5″ wide x 36″ high
12 lb Base for Indoor Use
20 lb Base for Outdoor Use