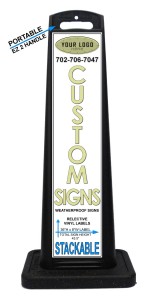 Custom portable signs for indoor use too! We ship these indoor portable signs with a 12 lb base which make them easier to handle and transport for all of your employees. They are stackable to which means they save you room when in storage.
MALLS: Is your business located inside a mall. These signs will draw more attention to your store and bring in more customers.
LOBBIES: Hotel, casino and theater lobbies see a lot of foot traffic and customers standing in line. You can send a message, advertise a product or provide direction with our lightweight portable signs.
INSIDE YOUR STORE: Welcome customers, advertise a sale, point them to the restrooms or say THANK YOU to them on their way out.